You may have heard someone say to count sheep to help you fall asleep and get a good night's rest.  Well, that may have been true when you were a kid but as you get older, your sleeping habits change. The recommended hours for a good night's rest are anywhere between seven to nine hours.  Compared to children, older adults don't get as much sleep, due to trouble falling asleep.  Beck's Drugs wants you to know you how you can get the most 'Zzzz's' at night.
Not getting enough sleep will lead to a number of problems. Poor sleep patterns are a normal part of aging. Sleep deprivation can lead to depression, attention and memory problems and sleepiness throughout the day. This may lead to taking sleep aid pills to assist with sleeping. Older adults may have a medical problem that can affect their sleeping habits.  If you are having trouble sleeping, see your doctor or a specialist and they can provide treatments that can help.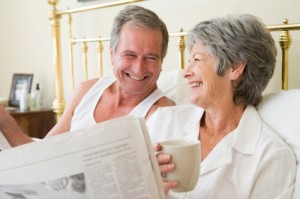 While there are many options to sleep on, your bed will provide the best night's rest. As much as anyone likes staying in bed all day, more sleep when you're older can affect your regular schedule too.  Try to go to sleep and wake up and the same time everyday and try not to nap too much during the day.  This will cause you to get out of your routine, stay up longer at night and not be able to get back to sleep. When you're ready to go to bed, your bedroom should well-ventilated, dark and as quiet as possible. Consider creating a night time routine like reading a book or watching T.V.
The Center for Disease Control suggests that if you cannot fall asleep, to make a sleep diary to show and explain your symptoms to your doctor or sleep specialist. In your diary write down when you go to bed, when you wake up, how many naps you take, how much exercise you do, how much alcohol, smoking or drinking caffeinated beverages you take in.  All of these will help your doctor determine the best solution to get a better night's sleep.
Take a look at Beck's Drugs CPAP Machines, oxygen concentrators and CPAP masks that can help you sleep better.